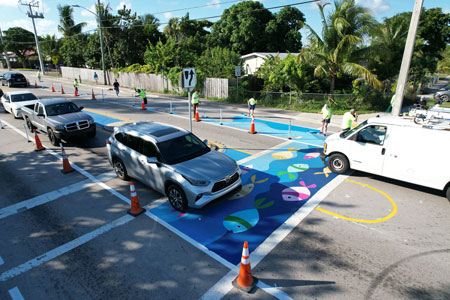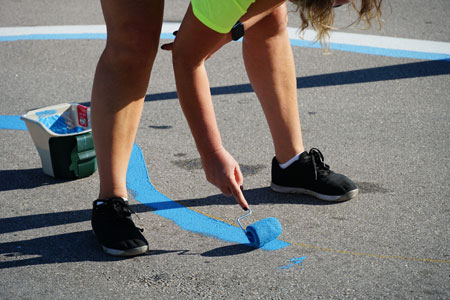 The Broward Metropolitan Planning Organization (MPO), the City of Deerfield Beach, AARP, and Street Plans had over 70 volunteers help redesign NE 3rd Avenue between Sample Road and NE 44th Street with paint! This "quick build" project will increase the safety and the comfortability of pedestrians, bicyclists, transit users, and drivers during their commute. This temporary redesign will transform NE 3rd Avenue for six months, at a lower cost than permanent improvements.
"This will have a tremendous impact on the community it is something they've had a say in and participated with; from attending the meetings and finding out all of the information about this project they know it will help keep them safe and potentially save lives," stated Deerfield Beach Mayor Bill Ganz. "Whenever you put something like this in as long as you can keep the traffic flowing and people safe and people have a positive change in their community it will prove projects like this to be a necessity in a Deerfield Beach and throughout the county."
Volunteers of all ages came out in support of the project to help paint the roadway during the 4-day installation held December 8-11, 2021. Deerfield Beach Commissioners Michael Hudak and Todd Drosky, Tedder Elementary Principal Shinita Coachman-Beavers, Chief Executive Officer at Broward Health North Alice Taylor, BMPO Citizens Advisory Committee Chair Ken Reinhardt, and Executive Director at the Fruitful Field Chris Reesor along with over 70 additional volunteers, community leaders, and youth rolled up their sleeves to pitch in.
"From this past week if you look at the support from the community and volunteers who've come out its proof that building better streets, a better Broward, and ultimately a better life doesn't necessarily have to a lot of concrete and asphalt it can start with a couple of gallons of paint," gleamed Gregory Stuart, Broward Metropolitan Planning Organization's Executive Director.
The City of Deerfield Beach in partnership with the Broward MPO was awarded a $20,000 grant through the AARP Community Challenge in July 2021 to aid with the funding of this project. This quick-build project is located within the Tedder and Tallman Pines community along an essential route for pedestrians of all ages who regularly bike and walk to different destinations including four schools (Deerfield Beach High School, Crystal Lake Middle School, Bright Horizons, and Tedder Elementary School) within a half-mile radius; Broward Health North, a 409-bed hospital; churches; and other community assets.
The primary components of the quick-build project are intersection improvements, wayfinding and informational signage, traffic calming features, crosswalks with decorative surface treatments and upgrading the existing bike lanes to protected bike lanes. The project will be reversible and adjustable according to the needs of the community. The City of Deerfield Beach is also currently pursuing multiple funding sources to enable permanent improvements on this corridor.
The project will increase visibility through pedestrian treatments and traffic calming. It is the first installation to be executed through the Broward MPO Tactical Urbanism program, Btactical. The quick-build project will be evaluated to see what works and where there is an opportunity for improvement for a future, long-term solution to the street. Pedestrian and bicyclist counts are being counted during this time to evaluate the use of the corridor, as well as speed data. A survey will be conducted to collect feedback from the community following the implementation of the project. To access the survey visit, https://arcg.is/00aGa0.
To learn more about this quick-build project and the Btactical program, visit the project website at https://www.browardmpo.org/tactical-urbanism and StoryMap https://arcg.is/0X1Oer