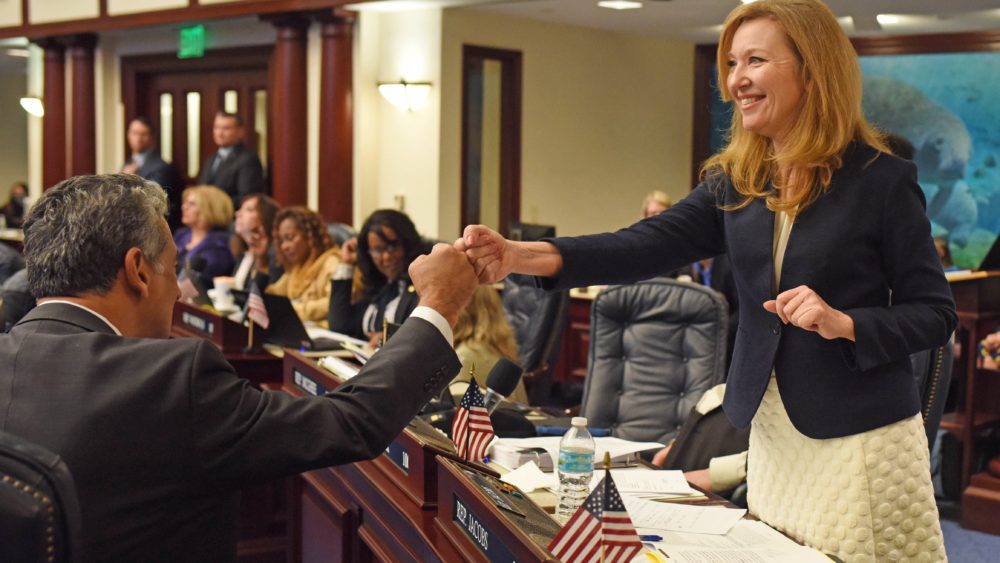 Representative Kristin Jacobs, a friend to the Broward MPO and a long serving MPO Board Member, passed away on Saturday, April 11, 2020, at 60 years old after fearlessly fighting colon cancer.
Kristin Jacobs served as a Broward MPO Member for many years and her widespread influence helped to shape core initiatives the MPO champions today. During Rep. Jacobs' tenure on the MPO's dais as a County Commissioner, she championed our MPO's independence from Broward County Government and helped shift the agency's focus from moving cars (congestion management) to moving people (Broward Complete Streets). She also championed resiliency ensuring Broward's future by addressing climate change today.
During her time as a Florida State Representative, Rep. Jacobs dedicated her life to serving and fighting improve the quality of life of those who live, work, and play in her South Florida community. Jacobs was a longtime advocate for innovative transportation projects, including light rail and complete streets. Throughout her career, Kristin worked to expand affordable housing, revitalize neighborhoods, encourage sustainable development and advocated for making solar energy a viable option for homeowners. One of her many accomplishments included spearheading the development of the Southeast Florida Regional Climate Change Compact (SFRCC) (comprised of Monroe, Miami-Dade, Broward, and Palm Beach counties) to address the current and future resiliency threats that South Florida faces. The SFRCC Compact created a non-partisan forum for 5.5 million residents to speak with one voice to their Federal and State representatives about the unique needs of the region.
Thank you Kristin for your leadership in improving the transportation system in South Florida and advocating for South Florida's concerns for climate change. The MPO is forever grateful.