The purpose of Walking Audits are to highlight corridors and areas that could benefit from a street assessment to better promote all modes of transportation. Walking audits aim to engage stakeholders, technical staff, elected officials and representatives of non-traditional transportation partners. The Broward MPO successfully funded and implemented Walking Audits county-wide through the Complete Streets Initiative. The Walking Audits are coordinated with City staff and hosted in different locations, such as schools, parks, community centers, and local businesses depending on the urban context of the study area. Feedback from these Walking Audits inform the scope of projects, ensuring the needs of community members and stakeholders are clearly reflected in the final recommendations.
Walking Audit Objectives
Experience the surrounding area as a pedestrian
Evaluate the safety and quality of the pedestrian experience
Identify barriers to a walkable/bikeable/transit friendly environment
Propose recommendations for improvements
Walking Audits 2022
Study Limits: Miramar Parkway (between SW 172nd Avenue and SW 160thth Avenue)
Date: Tuesday, April 12, 2022
Time: 5:00 p.m. to 7:00 p.m.
Meeting Location: Dolphin Bay Elementary, 16450 Miramar Pkwy, Miramar, FL 33027
CLICK HERE, to view a flyer for the Miramar Walking Audit
Study Limits: SE/SW 17th street (between SW 9th avenue and Cordova Road)
Date: Thursday, April 14, 2022
Time: 4:00 p.m. to 6:00 p.m.
Meeting Location: Broward Health Medical Center, 1600 South Andrews Avenue, 2nd Floor Auditorium, Fort Lauderdale, FL 33316
CLICK HERE, to view a flyer for the Fort Lauderdale Walking Audit.
Walking Audits 2018
Study Limits: Oakland Park Boulevard (from University Drive to Inverrary Boulevard/NW 56th Avenue)
Date: Thursday, September 27, 2018
Time: 5:00 p.m. to 7:00 p.m.
Meeting Location: Lauderhill Sports Park, 7500 West Oakland Park Boulevard, Lauderhill, FL 33313
CLICK HERE to view a flyer for the Lauderhill Walking Audit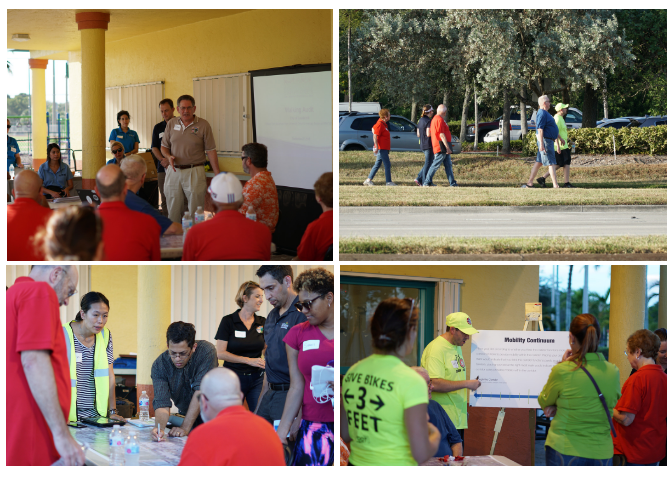 To view the Album visit the link : https://photos.app.goo.gl/hX6NviqLarVTjEWK9
Selected Corridor: Dixie Highway (Study Limits: from SW 10th Street to Hillsboro Boulevard)
Date: Saturday, November 3, 2018
Time: 9:00 a.m. – 11:00 a.m.
Meeting Location: HTC Community Center, 50 Hillsboro Technology Drive, Deerfield Beach, FL 33441
CLICK HERE to view a flyer for the Deerfield Beach Walking Audit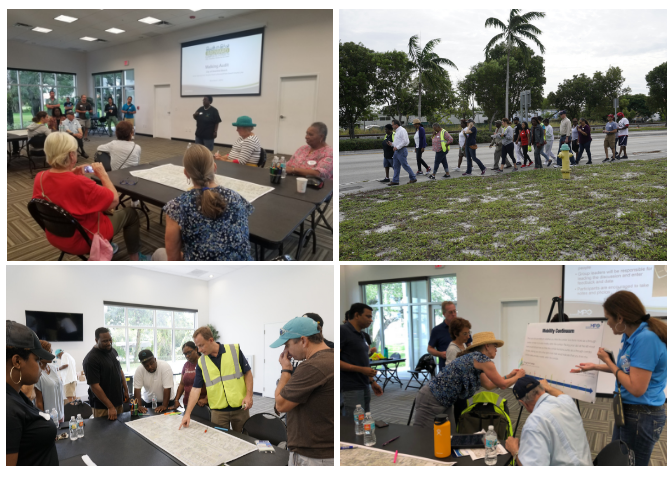 To view the Album visit the link: https://photos.app.goo.gl/2FrasBmb5UD9T6vKA
Selected Corridor: NW 31st Avenue (Study Limits: from NW 41st Street to NW 35th Street)
Date: Thursday, November 29, 2018
Time: 3:00 p.m. – 5:00 p.m.
Meeting Location: Oriole Elementary School - Media Room, 3081 NW 39th St, Fort Lauderdale, FL 33309
CLICK HERE to view a flyer for the Lauderdale Lakes Walking Audit

To view the Album visit the link: https://photos.app.goo.gl/wfnuRmWkxmNuvmAB8
Walking Audits 2019
Selected Corridor: University Drive (Taft Street to County line)
Date: Saturday, January 26, 2019 Rescheduled -> Saturday, June 15, 2019
Time: 9:00 a.m. – 11:00 a.m.
Meeting Location: Howard Forman Health Park 1101 Poinciana Drive, Studio 18, Pembroke Pines, FL 33025
CLICK HERE to view a flyer for the Pembroke Pines Walking Audit

To view the Album visit the link: https://photos.app.goo.gl/jZX9zZdMdQ4SQ7MFA

Selected Corridor: SE/NE 1 AVE / S/N 21 AVE/ DIXIE HWY (County line Rd to Sheridan St)
Date: Saturday, March 30th 2019
Time: 9:00 a.m. – 11:00 a.m.
Meeting Location: HB Cultural Center, 410 SE 3rd Street Hallandale Beach, FL 33009
CLICK HERE to view a flyer for the Hallandale Beach Walking Audit

To view the Album visit the link:https://photos.app.goo.gl/VKAMyb87tVVBUfTz9
North Lauderdale & Margate
Selected Corridor: Southgate Boulevard (SW 81st Avenue to SR 7/US 441)
Date: Thursday, May 23 2019
Time: 5:00 p.m. – 7:00 p.m.
Meeting Location: Galaxy Skateway 7500 Southgate Blvd, North Lauderdale, FL 33068

To view the Album visit the link: https://photos.app.goo.gl/K3ChiEMaZxfHdSD3A
Past Walking Audits
Date of Walking Audit: October 7, 2014, 2:30 - 5:00pm
Walking Audit Meeting Location: Coconut Creek Community Center, 1100 Lyons Road, Coconut Creek, FL 33063
Photo Gallery:

Date of Walking Audit: July 24, 2014, 6 - 8pm
Walking Audit Meeting Location: Chamber of Commerce, 512 NE 3rd Avenue, Fort Lauderdale, FL 33301
Photo Gallery:

Date of Walking Audit: January 13, 2015, 2:30-5:00 pm
Walking Audit Meeting Location: Lauderhill 6-12 STEM-MED Magnet School, 1901 NW 49th Avenue, Lauderhill, FL 33301
Photo Gallery:

Date of Walking Audit: October 23, 2014, 12:30-3:00 pm
Walking Audit Meeting Location: City Commission Chambers, 701 SW 71 Avenue, North Lauderdale, FL 33068
Photo & Video Gallery: