Ever wonder how it is possible for us to receive goods with the touch of a button?
Join us on a journey exploring The Magic of Freight.
Speak Up Broward on The Magic of Freight
On Thursday, September 17, 2020 at 2:00 p.m., the Broward MPO hosted an interactive conversation on the impact of freight (air, sea, rail and trucking) on our economy.
Panelists included:
Commissioner Beam Furr (Broward County Board of Commissioners, Broward MPO Board Member)
Dan Haake (HDR)
Jonathan Daniels (Port Everglades)
Gail Bulfin (Greater Fort Lauderdale Alliance)
Mark Gale (Broward County Aviation Department)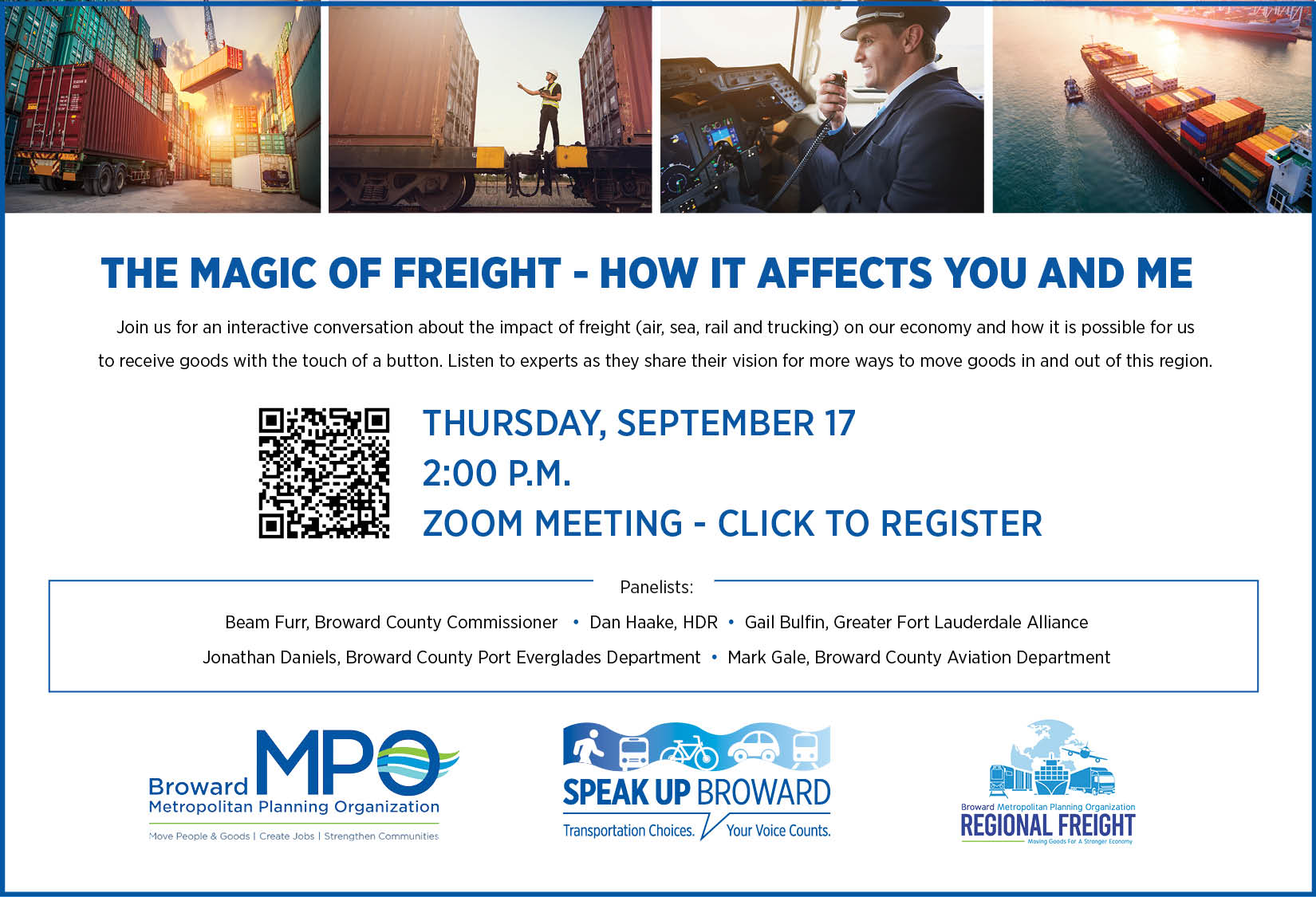 To view the Facebook Live Video, CLICK HERE.
For more information on this event, please contact Anthea Thomas, at thomasa@browardmpo.org
---
Freight By Mode
We take it for granted but our lives are dependent on freight. The items we consume daily come to us by air, sea, truck and rail. The Broward MPO is working with our partners in the region to improve the movement of freight and goods in Southeast Florida.
Air
Today's lifestyles depend on speed and our skyways are the quickest means to deliver goods from any place you can imagine.
Rail
Did you know railroads help reduce energy consumption and pollution, lower greenhouse gas emissions and cut highway gridlock?
Sea
Did you know over 90% of the world's trade is carried by sea? It would require hundreds of freight aircraft, miles of rail cars and fleets of trucks to carry the goods that can fit on one larger liner ship.
Trucking
The trucking industry moves close to 11.5 billion tons of freight a year. The impact of trucking is immeasurable on our economy.
For More Information
Please contact Paul Flavien at flavienp@browardmpo.org or (954) 876-0045 to learn more about the Broward MPO and what they are working on in your community.