Broward Complete Streets Events
Ribboncutting Events
Andrews Avenue Ribbon Cutting Event
We celebrated the completion of the Andrews Ave Complete Streets Project. This project included a green painted bike lane and landscaping. MPO staff attended meetings in Coconut Creek and Fort Lauderdale to educate the communities on the progress and plans of our Metropolitan Transportation Plan.
The Ribbon Cutting was held on Tuesday, September 17.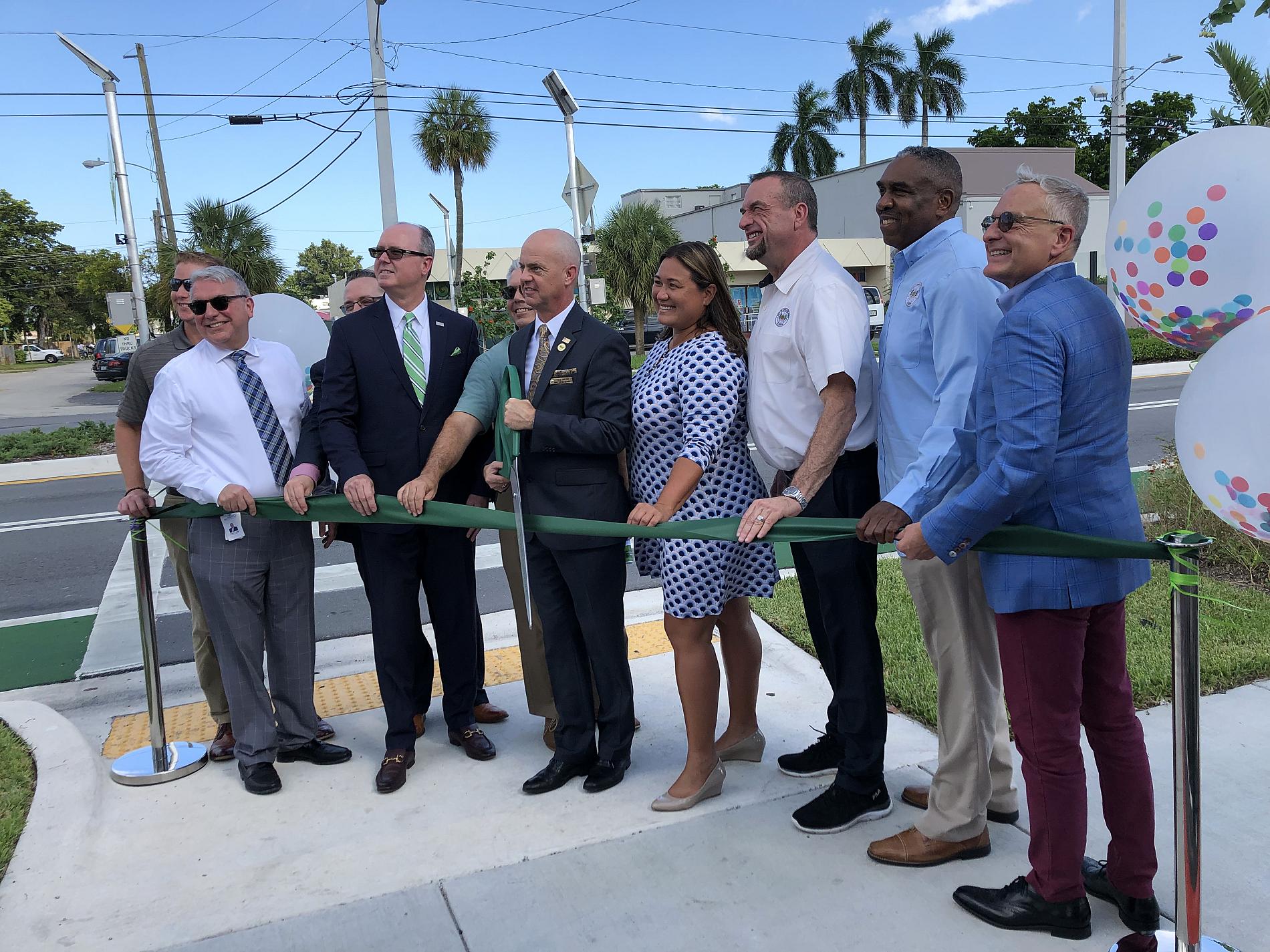 Sunset Strip Ribbon Cutting Event
We celebrated the completion of the Broward MPO first Complete Street demonstration project in the City of Sunrise.
The Ribbon Cutting took place on Saturday, July 21, 2018.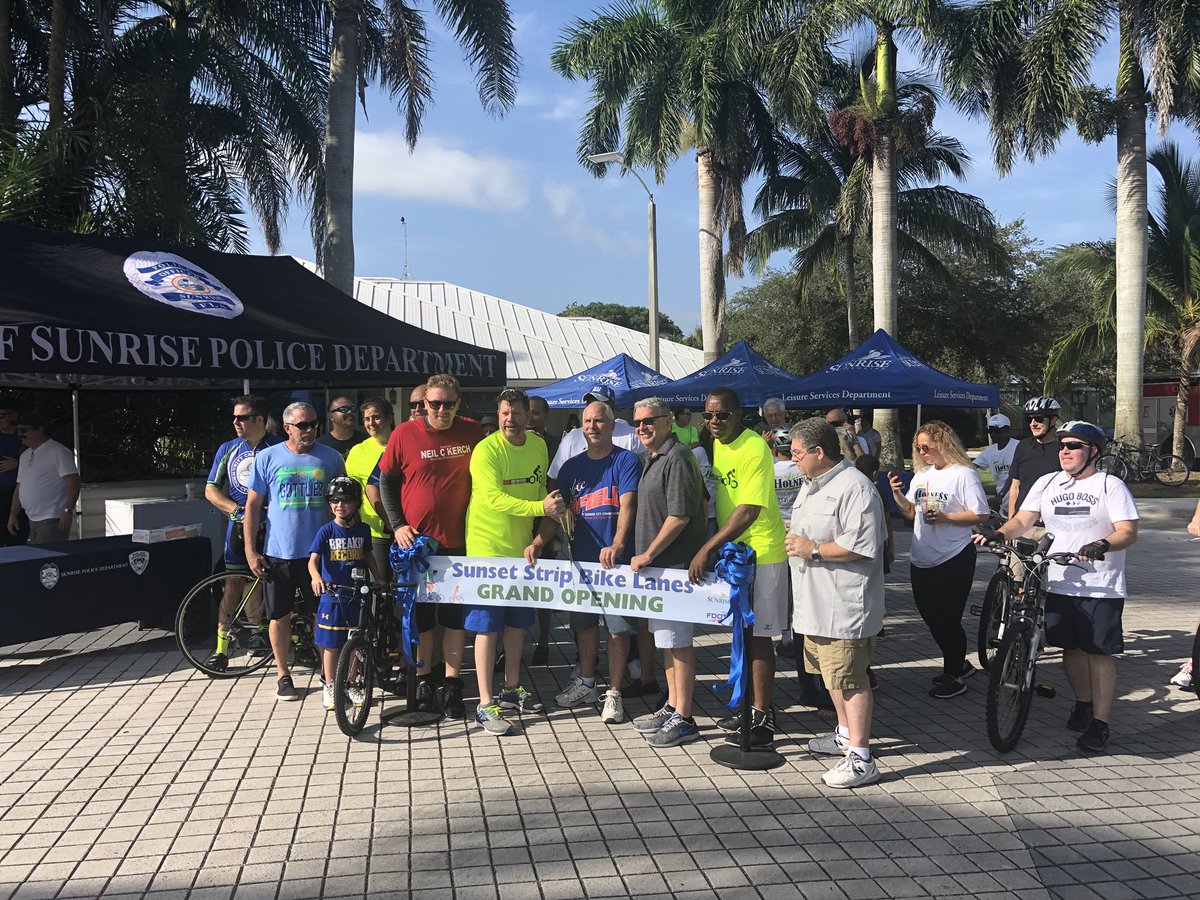 NW 44 Street Bike Lanes Ribbon Cutting Event
The City of Sunrise and the Broward MPO are committed to safer, healthier streets! We celebrated the completion of the City's newest bike lanes on June 23, 2018.
We met at Sunrise Athletic Complex (SAC) for a Ribbon Cutting Ceremony with light refreshments. Participants met up with their bikes and helmets to take part in a leisurely five-mile, round-trip ride with stops at Welleby Park and Oak Hammock Park.
Participants also had the chance to meet the Sunrise Police Department Bike Patrol, and enjoyed a famous Police Department Pop-Up BBQ after the ride!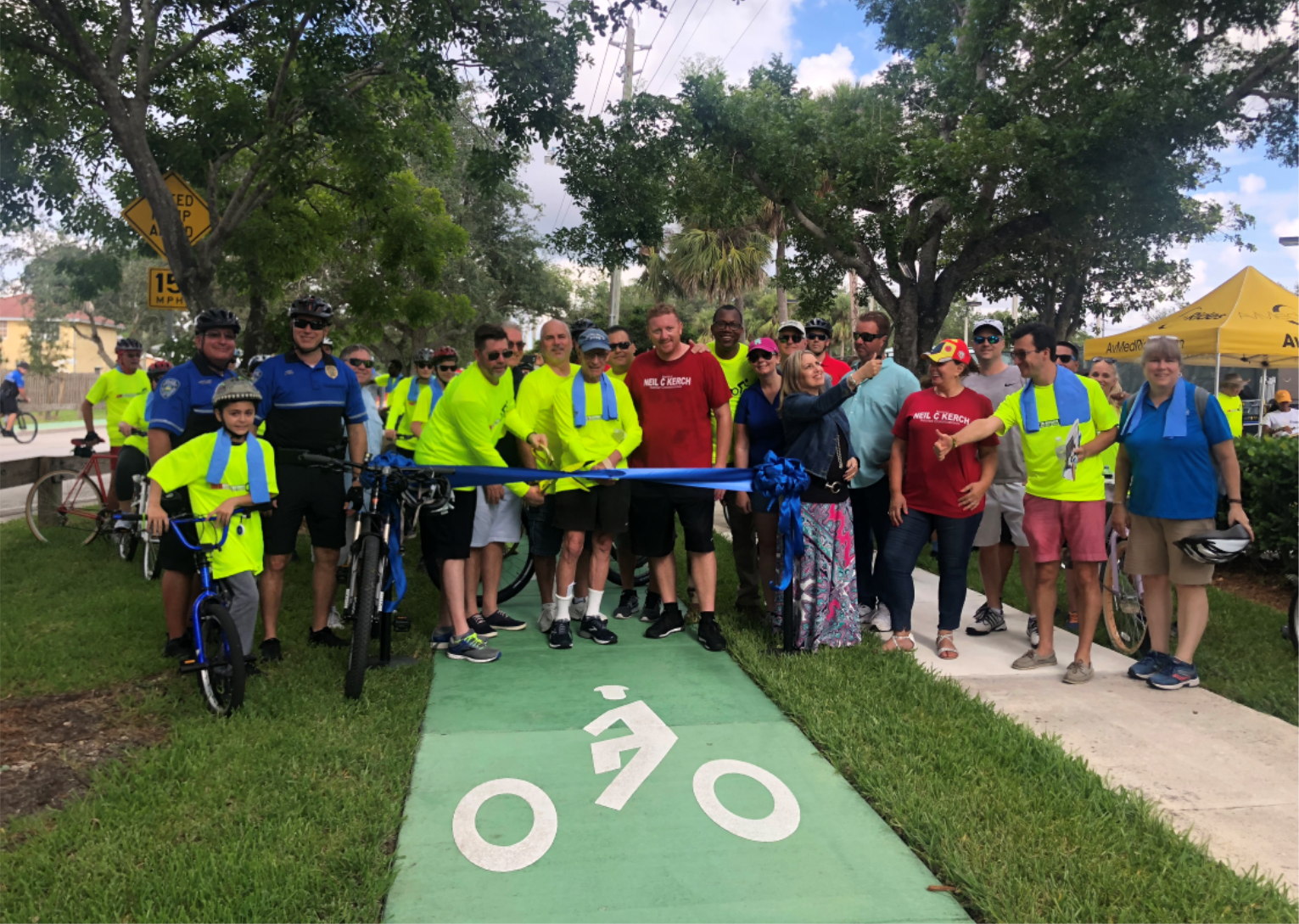 Park Lane Ribbon Cutting Event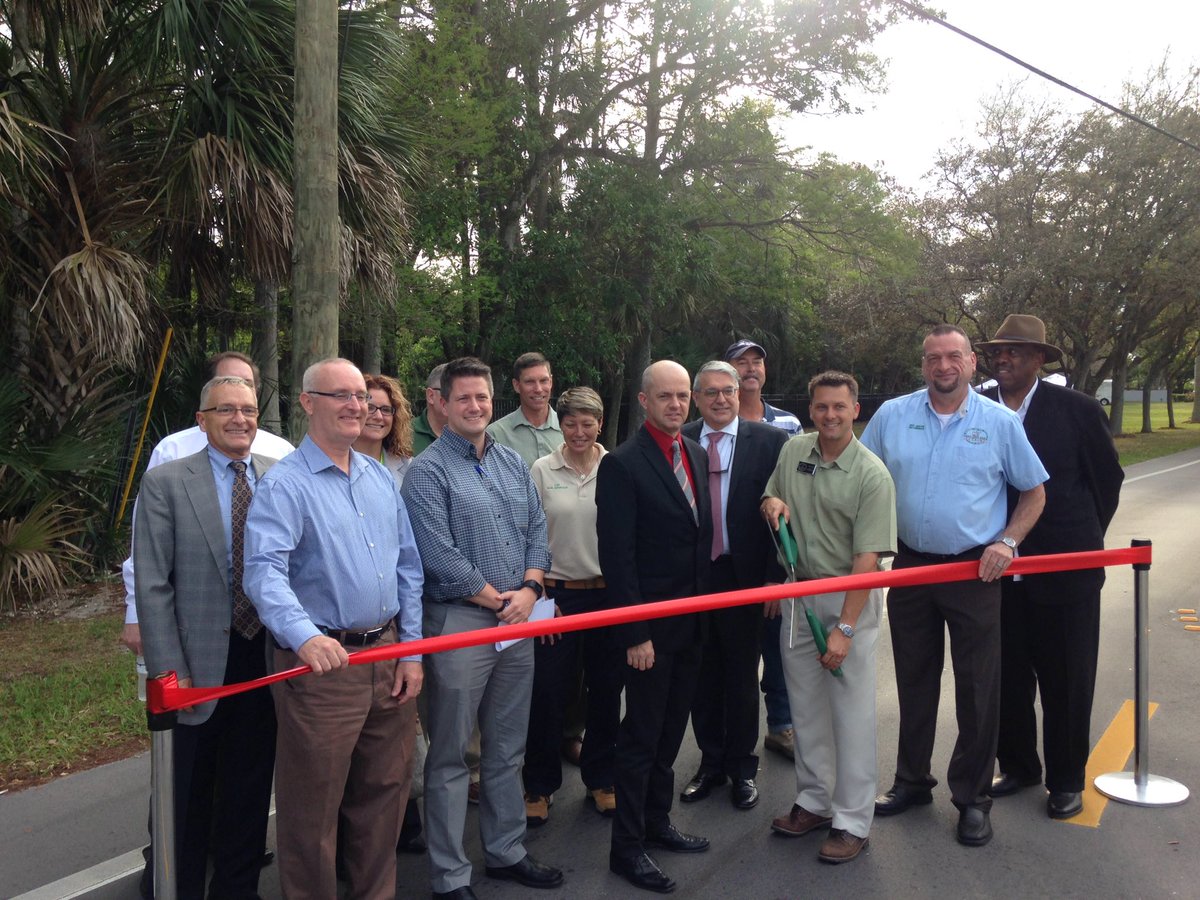 Groundbreaking Events
Hollywood Boulevard Groundbreaking Event
The Hollywood Boulevard Complete Streets Project in Hollywood Boulevard from City Hall to Dixie Highway added a bike lane, wider sidewalks, new lighting, drainage improvements, and a center refuge median to provide better access and comfort for all users of the road. MPO Board Chair and City of Hollywood Commissioner Richard Blattner spoke at the groundbreaking and praised the partnership that helped make this project a reality.
The Groundbreaking occured on June 27, 2017.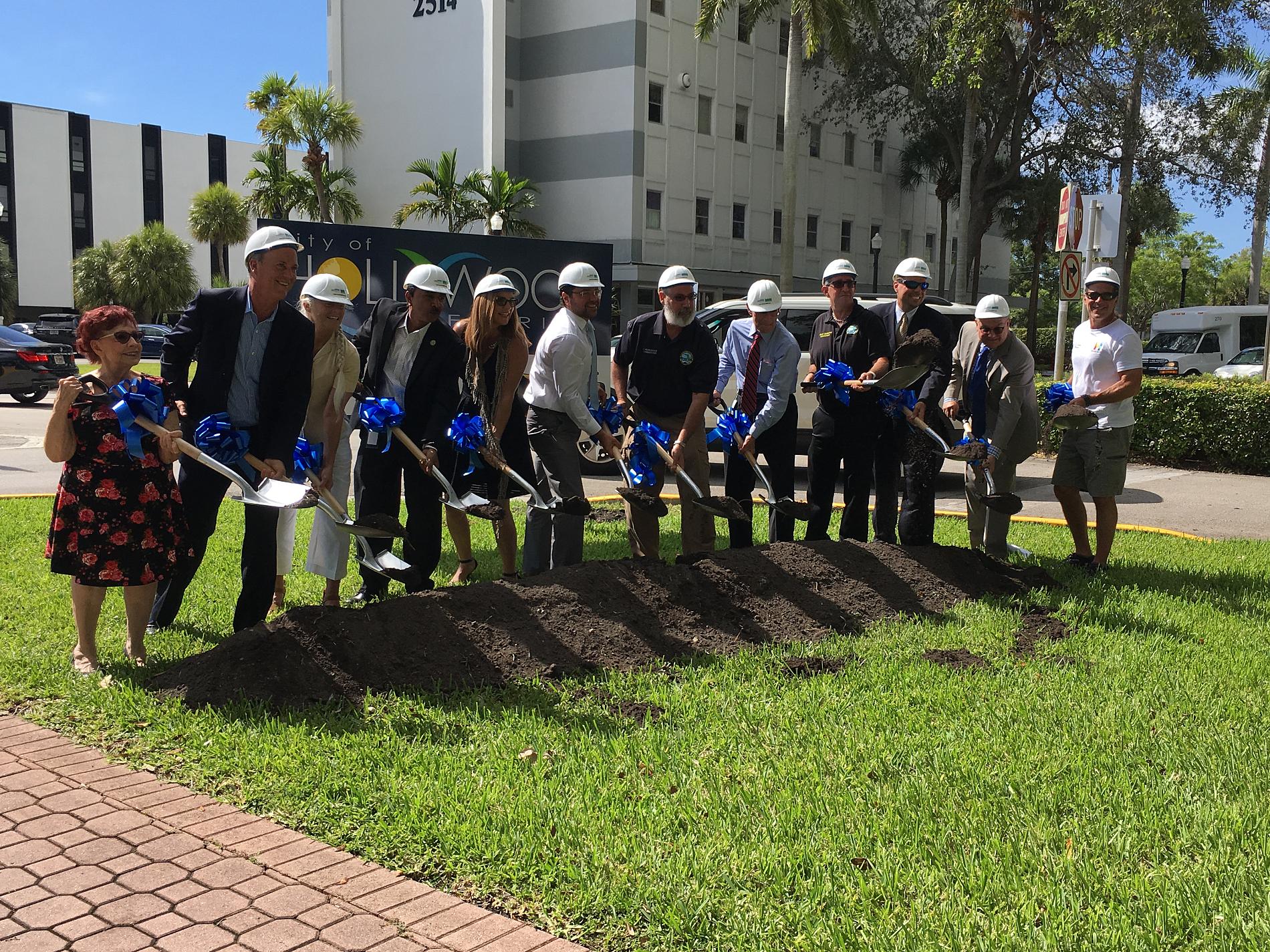 Sunset Strip Groundbreaking & Bike Ride
Our partners at the City of Sunrise held a ribbon cutting event for the NW 64 Avenue project. Did you know that the MPO contributed $1 Million federal dollars to this project? This project connects to the Sunset Strip Broward Complete Streets Demonstration Project! Some of the improvements include wider sidewalks, new & wider bike lanes and more.
This Ribbon Cutting was held on July 21, 2018.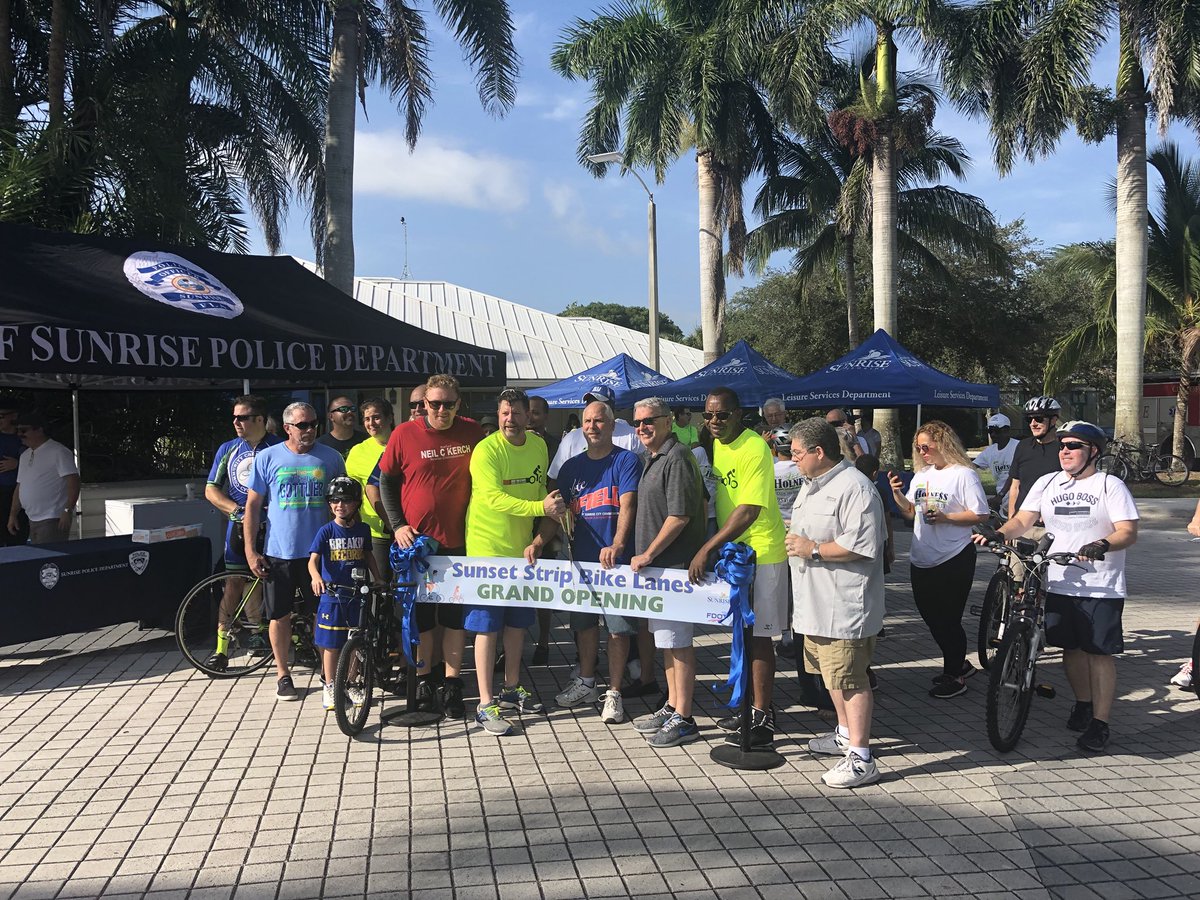 Complete Streets Phase 1 Groundbreaking
As part of the Broward MPO's commitment to creating safer, healthier streets, the Broward MPO celebrated the kick-off of implementation of over 120 million dollars in Bicycle and Pedestrian improvements programmed for construction in the next five years. This first phase of projects, located throughout the Broward region, reflect a continuing partnership between the Broward MPO, FDOT, Broward County Government and municipal governments. This memorable event took place in Hollywood on Tuesday, February 3, 2015. The Broward MPO was joined by more than 60 community leaders, residents, and members of the media.
Groundbreaking Participants
Mark Brown - Lauderdale by the Sea Commissioner
Michael De Lucca - BRHPC CEO
Walter Duke - Dania Beach Commissioner
Diana Alarcon - Fort Lauderdale Transportation and Mobility Director
Kevin Biederman - Hollywood Vice Mayor
Peter Hernandez - Hollywood Commissioner
Peter Bober - Hollywood Mayor
Beverly Williams -Lauderdale Lakes Vice Mayor
Yvette Colbourne - Miramar Vice Mayor
Patricia Asseff - Hollywood Commissioner
Richard Blattner - Hollywood Commissioner/Broward MPO Board Chair
Gerry O'Reilly - FDOT Director of Transportation Development
Gregory Stuart - Broward MPO Executive Director
Richard Rosenzweig - Deerfield Commissioner (not pictured)
Please click here to view photos from event.
Broward Complete Streets Awards
Complete Streets Recognition Awards are an opportunity to highlight individuals and jurisdictions that have led by example for going above and beyond in promoting, creating Better Streets for a Better Broward.
2019 Champions – Let's Go Walking! to School event
On October 28, 2019, in preparation for the Let's Go Walking! to School event, students from Annabel C. Perry Prek-8, City of Miramar staff, Commissioner Yvette Colbourne, Broward Metropolitan Planning Organization (MPO), Broward School Board Representative Patty Good and volunteers installed 6 locations. The locations were improved with temporary painted crosswalks, curb extensions, mural intersection, warning markings as well as placing awareness signs encouraging drivers to slow down and watch for pedestrians and cyclists to improve street safety and engage the community through innovative street design. On October 30, 2019 as part of the National Walk to School Day, over 200 students and parents formed a walking school bus to the school entrance. We would like to thank everyone who worked on the event and to all attendees, the parents and students were excited. This is an approach that can be replicated in Broward region.The MPO had the support of Commissioner Yvette Colbourne, Broward School Board Representative Patti Good, Broward County Public Schools Superintendent Robert W. Runcie, Principal of Annabel C. Perry PreK-8 Thomas Correll, City staff (Sal Zuniga, Glen Gayle, Greg Rust), Broward Schools staff (Angel Gomez), City of Miramar Police Department (Wilson Troy, Jose Rosales), South Florida Commuter Services and FDOT