Bringing Commuter Rail Service to Southeast Broward!
The Tri-Rail Coastal Link commuter rail project along the Florida East Coast (FEC) corridor in eastern Miami-Dade, Broward, and Palm Beach Counties has been under consideration for many years. Two segments of the project are moving forward into the environmental study phase that will facilitate design and construction, once approved. The Miami-Dade segment is being evaluated as the NE Corridor Project Development and Environmental (PD&E) Study as part of their SMART Plan and the segment in Broward County is being evaluated as the Broward Commuter Rail - South PD&E Study.
Additional information can be found at the following websites for each project: http://www.miamidadetpo.org/smartplan-northeast-corridor.asp and www.browardcommuterrailstudy.com respectively.
Unlike Brightline, which is a high-speed, intercity service that is designed to carry people quickly to a limited number of destinations, this project would bring commuter rail service to the heart of South Florida's historic downtowns including Miami, Fort Lauderdale, and West Palm Beach. At this time, the Broward Commuter Rail - South project would extend commuter rail service from Aventura in Miami-Dade to a terminus south of the New River in Fort Lauderdale. The preliminary environmental analysis required for the extension of the commuter rail into Broward is currently underway, and a New River Crossing study that will closely examine the bridge crossings and tunnel crossing alternatives to extend service north, further into Broward County, will commence in spring, 2023.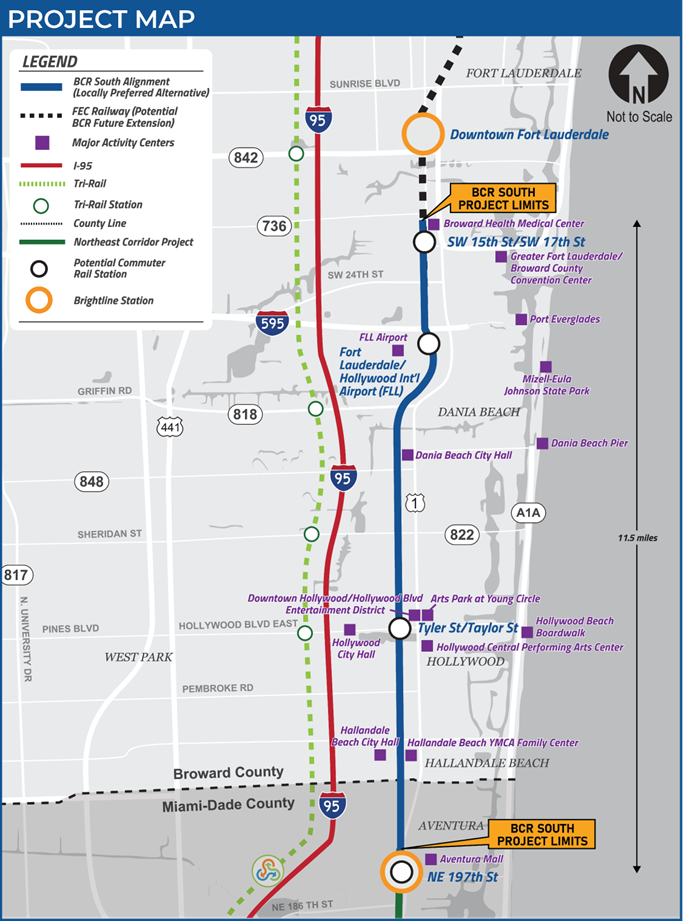 Studying Commuter Rail in the Corridor
Broward and FDOT MOU is signed
PD&E Consultants selected
Miami-Dade County Resolutions for ongoing track access negotiations
Broward continues dialogue with Brightline and FDOT
Broward and FDOT draft MOU to advance commuter rail project
FDOT conducts New River Crossing Feasibility Study
Brightline starts revenue service from Miami to West Palm Beach
Miami-Dade begins negotiating track access
Broward passes penny surtax
Phased project implementation based on local funding share by country
FDOT & SFRTA formally request Entry into PD from FTA
FTA and FRA later agree to put PD request on hold to avoid confusion with AAF
MPOs sign collective MOU and authorize request to begin FTA New Starts Project Development (PD)
25 stations identified for further evaluation in PD&E
Refined Master Plan for 85-miles commuter rail service from Miami to Jupiter
Integrated extension of Tri-Rail on shared tracks with FEC Freight
All Aboard Florida (AAF) announced from Miami to Orlando
MPOs and FEC request regional Transit Study by FDOT
FDOT held over 400 public meetings to develop System Master Plan
Resolutions of support from Broward MPO, Palm Beach MPO and cities
Project Partners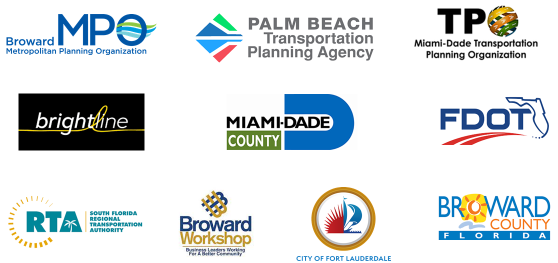 For More Information
Please contact Amanda Christon at (954) 876-0078 or christona@browardmpo.org to learn more about the Broward MPO and what they are working on in your community.