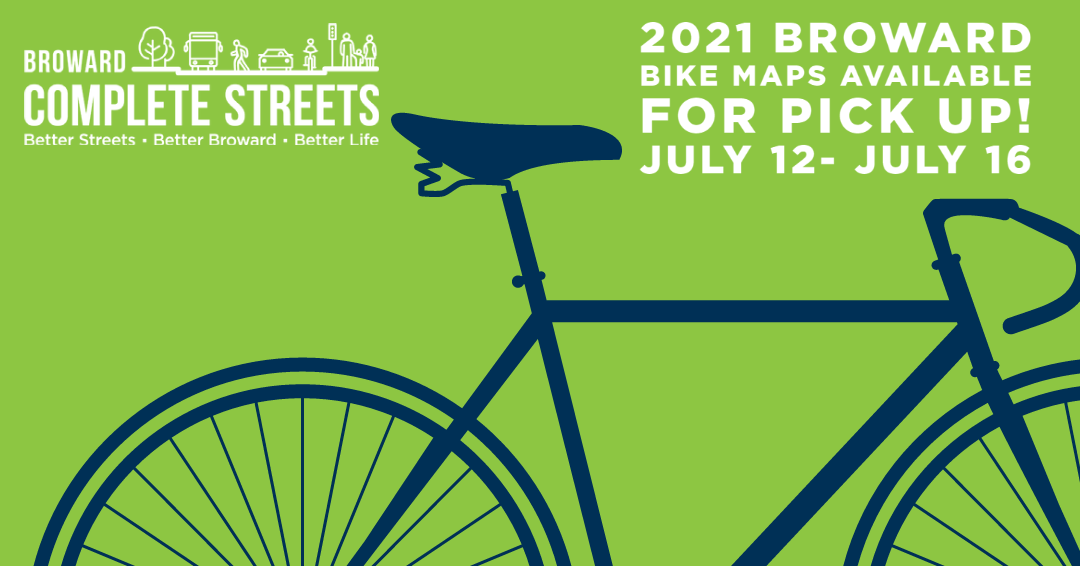 To all Transportation partners and friends of the Broward MPO who want to spread a great resource on navigating Broward by two wheels: we are excited to announce the 2021 Broward Bike Maps have been printed and are ready for pick up! Swing by the Broward MPO office located at 100 W Cypress Creek Road #650, Fort Lauderdale, FL 33309 between Monday July 12 - Friday, July 16 to pick up some bike maps that you can distribute to the community. For pick up times, please reference the table below.
The Bike Map was developed to inform and assist cyclists of all ages and abilities with selecting the most appropriate route for their travels. This color-coded map displays bicycle facility types as well as the bicycle suitability of roadways based on the expected interaction with vehicular traffic a cyclist may experience when traveling along a particular corridor. This allows cyclists to select a route that is more suitable or appropriate for them based on their own experience, skill level and comfort. Major factors used to determine bicycle suitability include traffic volumes, speed limits, number of travel lanes and type of bicycle facility. Looking to save paper? Check out our Virtual Bike Map and Interactive Bike Map for bike route planning on the go!
For more information on Bike Map pick up, reach out to Benjamin Restrepo, contact information available below.
| | |
| --- | --- |
| Monday, July 12 | 10:00 a.m. - 12:00 p.m. or 4:00 p.m. - 6:00 p.m. |
| Tuesday, July 13 | 10:00 a.m. - 12:00 p.m. or 4:00 p.m. - 6:00 p.m. |
| Wednesday, July 14 | 10:00 a.m. - 12:00 p.m. or 2:00 p.m. - 4:00 p.m. |
| Thursday, July 15 | 10:00 a.m. - 12:00 p.m. or 2:00 p.m. - 4:00 p.m. |
| Friday, July 16 | 10:00 a.m. - 12:00 p.m. or 2:00 p.m. - 4:00 p.m. |
For More Information
Please contact Benjamin Restrepo at (954) 876-0054 or restrepob@browardmpo.org to learn more about the Broward MPO and what they are working on in your community.