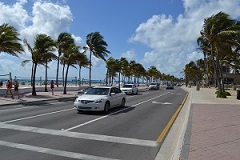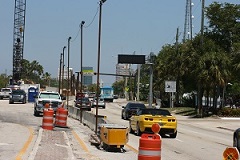 Welcome to the Broward MPO's Transportation Project Updates webpage. The purpose of this page is to provide information and updates on transportation projects happening in Broward and throughout Southeast Florida. Click on the blue links below to take you to that page.
This page contains information on transportation projects under construction by the Florida Department of Transportation (FDOT) in Broward. Projects listed include: 95 Express construction, State Road 7 widening in Hollywood, I-75 Express Lanes, A1A from Oakland Park to Flamingo Rd, Sunset Strip Complete Streets improvements, Hollywood Boulevard Complete Streets improvements, and more.
The Broward MPO's Transportation Improvement Program (TIP) is a comprehensive list of federal, state and locally funded transportation projects. All modes of transportation are included in the TIP. This includes transit, roadways, bridges, aviation, seaport, rail and commuter rail, bicycle facilities, pedestrian provisions, and enhancement projects like landscaping and greenways. The Florida Department of Transportation's Work Program is used to produce the Broward MPO's five-year TIP.
The link above is a map with updates on "Major Capital Improvement Projects" located throughout Broward County. Projects listed include the Andrews Avenue Bridge Rehabilitation Project, NW 27th Avenue Safe Streets improvements, Davie Road Extension improvements, Wiles Road widening, and more.
Brightline service will soon be expanded to Downtown Miami (Miami Central Station) and eventually, Orlando.
Current Turnpike projects in Broward include the Sunrise Boulevard Interchange Modification as well as routine maintenance and repair.
Complete Streets (Coming Soon)
Click above for a spreadsheet with detailed information on the Broward MPO's Complete Streets projects.
Information on construction happening at Fort Lauderdale-Hollywood International Airport (FLL).
Do you have another site with updates you would like to see listed here? Please contact us.
For More Information
Please contact Anthea Thomas at thomasa@browardmpo.org or (954) 876-0034 to learn more about the Broward MPO and what they are working on in your community.