Sunset Strip Ribbon Cutting Event
Join us celebrate the completion of the Broward MPO first Complete Street demonstration project in the City of Sunrise.
The Ribbon Cutting took place on Saturday, July 21, 2018.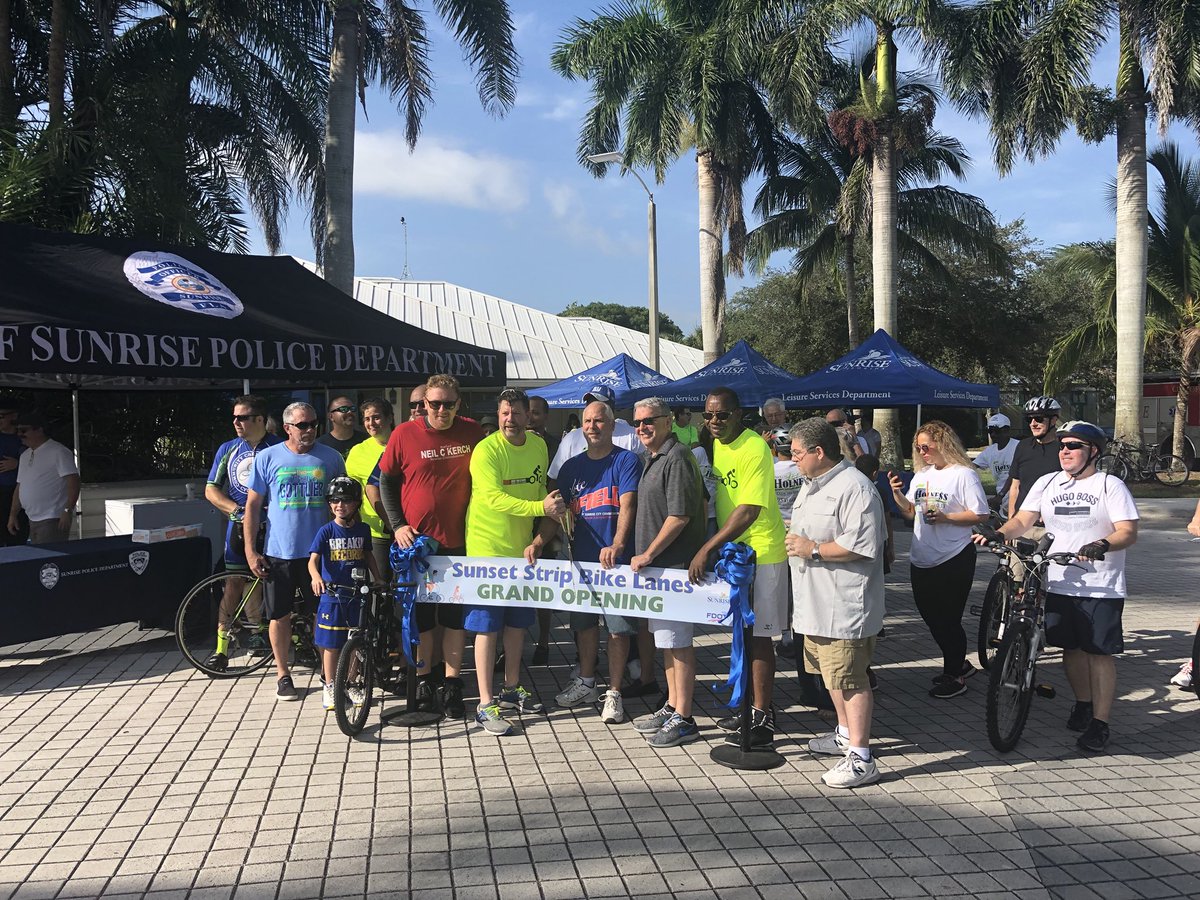 NW 44 Street Bike Lanes Ribbon Cutting Event
The City of Sunrise and the Broward MPO are committed to safer, healthier streets! Join us to celebrate the completion of the City's newest bike lanes.
We'll meet at Sunrise Athletic Complex (SAC) for a Ribbon Cutting Ceremony and light refreshments. Bring your bike and helmet to take part in a leisurely five-mile, round-trip ride with stops at Welleby Park and Oak Hammock Park.
You'll also have a chance to meet the Sunrise Police Department Bike Patrol, and enjoy a famous Police Department Pop-Up BBQ after the ride! Call the Leisure Services Department for more information: (954) 747-4600.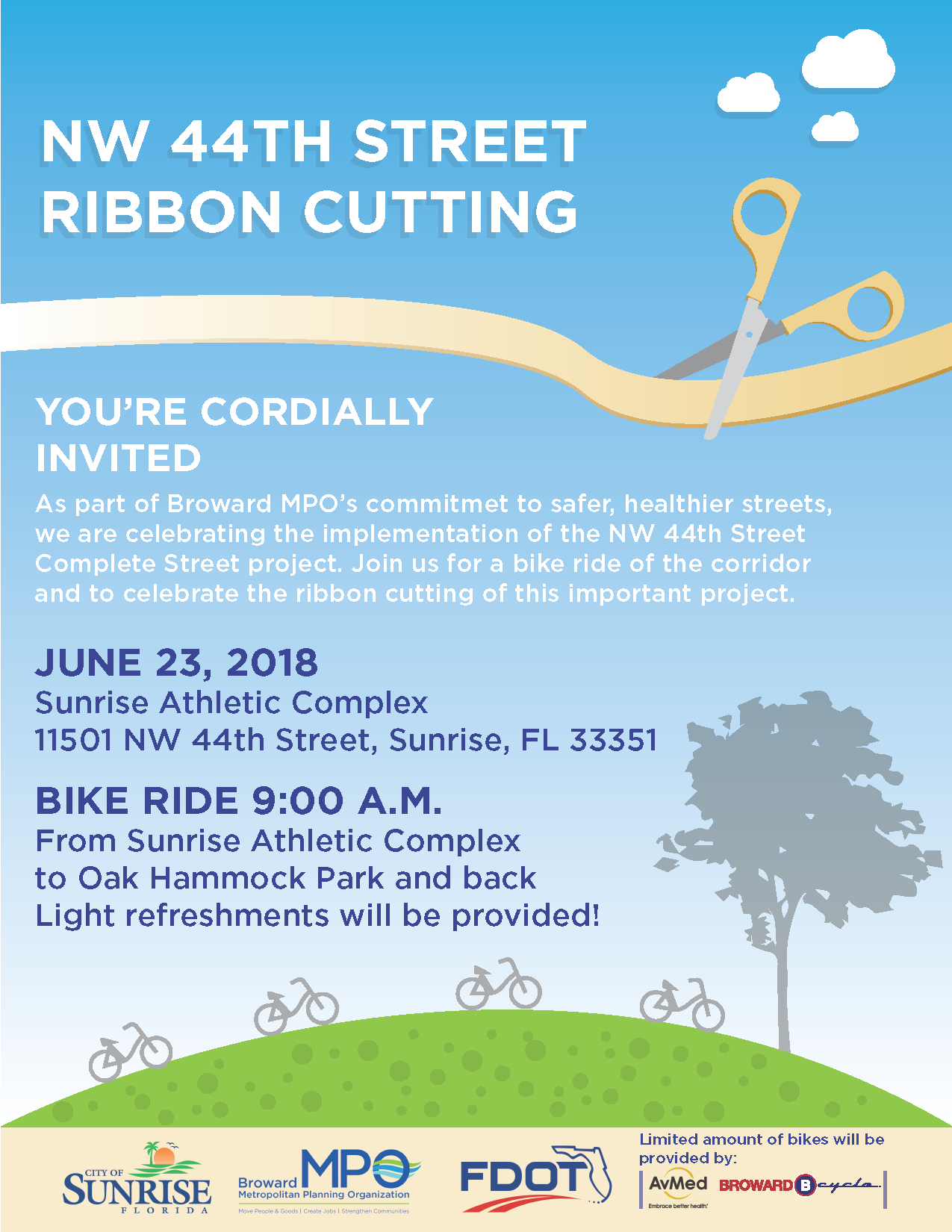 Hollywood Boulevard Groundbreaking Event
Join us for the Hollywood Boulevard Groundbreaking Event on Tuesday June 27, 2017!
RSVP AT: https://urbanhp.wufoo.com/forms/zwf4zm50j23a2e/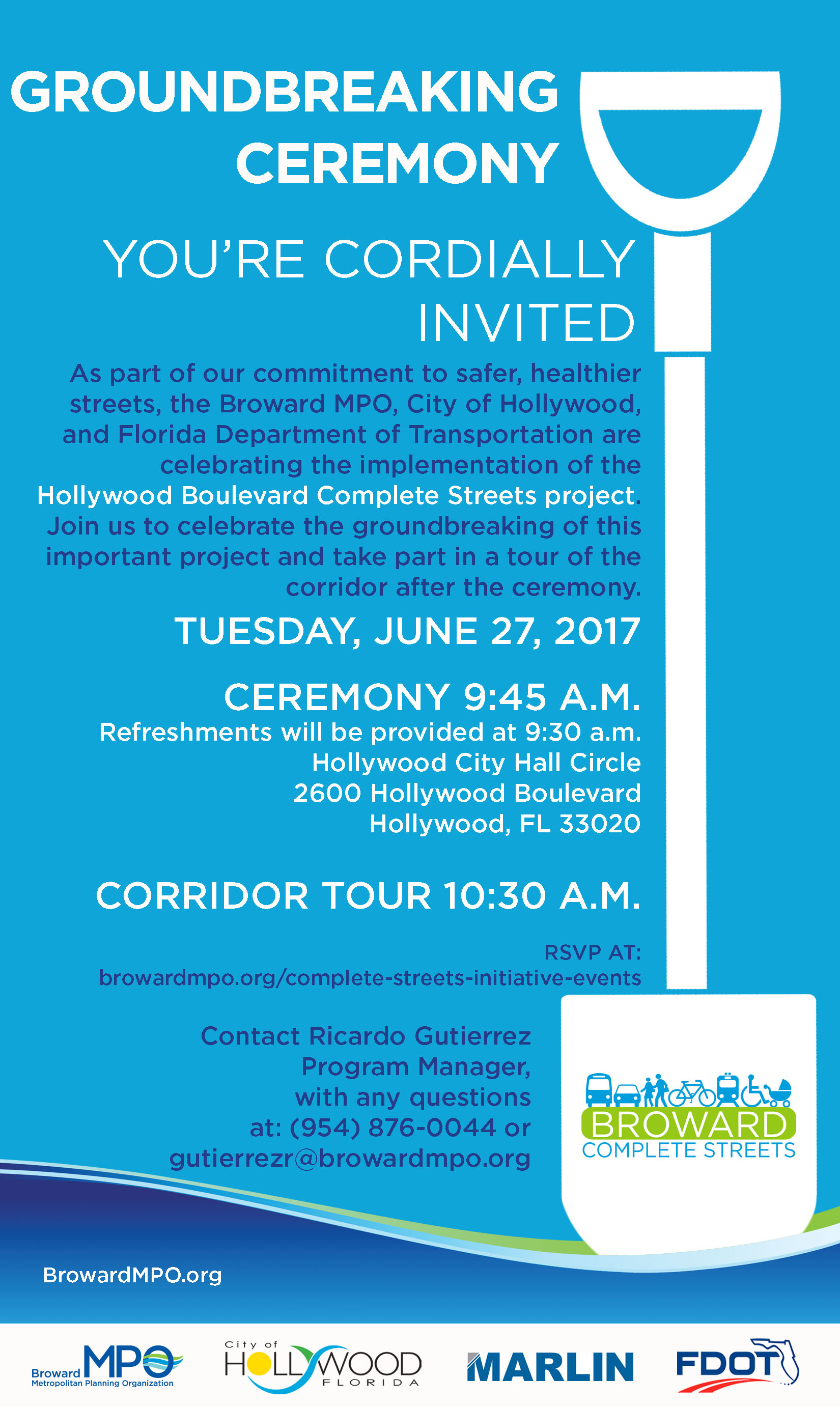 Sunset Strip Groundbreaking & Bike Ride
Please note that this event (orginially scheduled for Saturday, June 10, 2017) was CANCELLED due to stormy weather.
Complete Streets Phase 1 Groundbreaking
As part of the Broward MPO's commitment to creating safer, healthier streets, the Broward MPO celebrated the kick-off of implementation of over 120 million dollars in Bicycle and Pedestrian improvements programmed for construction in the next five years. This first phase of projects, located throughout the Broward region, reflect a continuing partnership between the Broward MPO, FDOT, Broward County Government and municipal governments. This memorable event took place in Hollywood on Tuesday, February 3, 2015. The Broward MPO was joined by more than 60 community leaders, residents, and members of the media.
Groundbreaking Participants
Mark Brown - Lauderdale by the Sea Commissioner
Michael De Lucca - BRHPC CEO
Walter Duke - Dania Beach Commissioner
Diana Alarcon - Fort Lauderdale Transportation and Mobility Director
Kevin Biederman - Hollywood Vice Mayor
Peter Hernandez - Hollywood Commissioner
Peter Bober - Hollywood Mayor
Beverly Williams -Lauderdale Lakes Vice Mayor
Yvette Colbourne - Miramar Vice Mayor
Patricia Asseff - Hollywood Commissioner
Richard Blattner - Hollywood Commissioner/Broward MPO Board Chair
Gerry O'Reilly - FDOT Director of Transportation Development
Gregory Stuart - Broward MPO Executive Director
Richard Rosenzweig - Deerfield Commissioner (not pictured)
Please click here to view photos from event.
For More Information
Please contact Stephanie Garcia at (954) 876-0065 or garcias@browardmpo.org to learn more about the Broward MPO and what they are working on in your community.